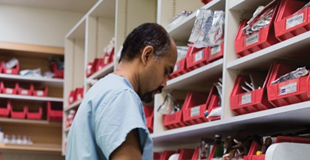 Inpatient Pharmacy (IPD)
Cardinal Health offers several solutions to improve the performance of the pharmacy within hospitals designed for patients who are hospitalized.
We offer specialized solutions that fit the needs of each particular pharmacy. In order to improve performance, reduce costs and penalties.
Outpatient Pharmacy (OPD)
The solutions offered by Cardinal Health for outpatient pharmacies, plays a critical role in the continuum of care for the patient after being discharged from the hospital.
We understand that the needs of the outpatient pharmacy are completely different than the needs of inpatient pharmacy. Our experts partner with you to provide custom solutions tailored to your needs.
Remote Pharmacy
The remote pharmacy service offered by Cardinal Health allows medication orders and reviews remotely at any time of day or night by licensed pharmacists, trained with the policies and procedures of each hospital or pharmacy.
For more information contact us
Metro Area: 787.625.4200
Toll-free: 800.981.4699
Fax: 787.625.4398
Email:
cuserv@cardinalhealth.com